I want to go ahead, what happens now?
For web orders, simple place your order online. We recommend that you choose the 'pay later' option. We will then contact you to discuss your order further.

If we've sent you an email PDF quotation then please just call or email us if you wish to go ahead with a quote.

Once we have your go ahead, we then prepare and send out further order documentation via email. This will include a quick checklist, an invoice for the deposit payment and a CAD drawing. We send these to you for confirmation.

Once all is clear, confirmed and the deposit paid, we will send our site surveyor to your premises and measure the openings. They will inform you of any unforeseen problems which will need resolving prior to installation.

We will then arrange an installation date with you and look forward to creating your new Glass Wall.
Do you survey the site?
Yes. One of our partitioning experts will visit your site to carry out a professional survey. They will take accurate measurements, check the site access and location. We will then manufacture the partitioning to our survey dimensions. We do not manufacture to your dimensions.
Where are you based and do you install at my location?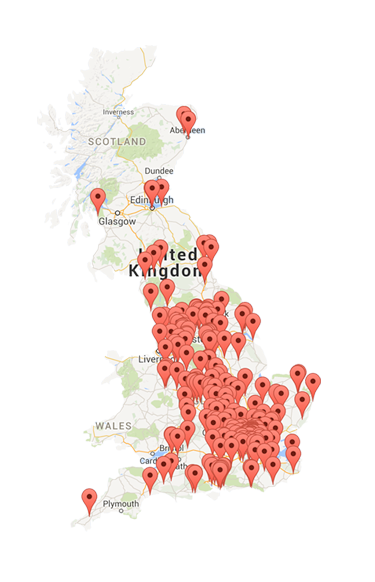 We're based in Sheffield and carry out installations all over mainland United Kingdom. The majority of our installations are in London, the South East, and the other major towns of England, Scotland and Wales. See where we've worked in the UK recently. See where we've worked in London recently.
Do you manufacture to my dimensions and just arrive with the glass?
No, don't worry, definitely not. Before we visit site, we provide you with an accurate price based on your dimensions and layout. To qualify your order, we also ask lots of questions and often request some quick photos of the site location if possible. When you're happy to proceed, one of our expert surveyors will visit your site to accurately measure. We then manufacture the glass to our dimensions and not yours.
Do we need Film/Manifestation on the Glass?
To comply with Building Regulation Document N and M it is required, by law, that a minimum of 2 rows of dots or squares are applied to full height glass partitions to denote that it is glass. Unless specifically requested to the contrary, we include the minimum manifestation requirement within your quotation.

You may also wish to use a bespoke film manifestation design. We would be pleased to quote for your specific requirement, think of a design, we can do it!

If Manifestation is not ordered from us then we take no responsibility for any injury or claim arising, we have informed you of this requirement.
Are your systems fire rated?
Our standard partitioning systems are not fire-rated. We do offer specialist fire-rated products from 30/00 up to 90/90. Our fire-rated glass partitioning is clearly marked as fire-rated, with the associated level of 'fire-rating' e.g. 30/30 (meaning 30 minutes integrity and 30 minutes insulation). All other products should be assumed as non fire-rated. Fire-rating can be a complex area and will often require a judgement from your local building control or an independent specialist. Once you know the specific fire-rating please contact us for a bespoke quote.

Please live chat or call if you need further help on fire-rated glass partitions.
What are the sound proofing properties of your systems?
We have a number of systems available. Our most cost effective and popular, frameless single glazed system with a frameless door, is specified at 33dB sound attenuation. At this level you will hear muffled conversations. Our best double glazed system, fitted with acoustic glass is specified at 50dB sound attenuation.
We can provide a guide based on the test data on the glass type specified, but every building is different. The construction of a building and the furnishings within a room make a significant difference to the way sound behaves. If sound insulation is important to you then we have a number of ways to improve on the Standard system without increasing the cost beyond reason.
We have obstructions in the path of the partitions, can you help with this?
In most cases yes we can. Things to look out for on floors, ceilings and walls:
- Lights
- Smoke Detectors
- Air Conditioning
- Intruder Alarm Sensors
- Wall Mounted Trunking
- Radiators
- Power, Telephone or Data Sockets
- External Windows
- Non Standard Skirting detail
- Under floor heating
If any of the above apply to your installation you may wish to email us some photos at [email protected] with a short explanation. We can often notch around obstructions or advise on alternative solutions. A small additional charge would be made per notch. As you would expect we make no allowance for the re-siting of these items, they must be done prior to site installation.
What is a Frameless Glass Door?
Just as it sounds, the door pivots without the need of a door frame. This is visually impressive and the most common type of door we sell. We would point out that there is a gap around the perimeter of the door, to ensure suitable clearance, this is typically between 5mm to 10mm to the top and sides, with more at the bottom to ensure it doesn't catch the floor.
What is a Framed Glass Door?
Glass doors can be hung within a slim aluminium door frame. The advantage over a frameless door is the additional sound insulation it provides The door leaf itself can be a single sheet of 12mm toughened glass, or a double glazed door leaf, to improve the sound resistance properties of the room.
What is Manifestation?
A legal requirement by Building Regulations. All glass partitions and doors must have at least 2 rows of identifying demarcation to prevent people from walking into the glass. We include the minimum required to meet this standard, we can quote additional costs if a more detailed solution is wanted.
How long will it take to complete my partition?
Our typical installation time is 3 weeks from the point of order. This applies to 95% of what we do. Certain specialist products do have extended manufacturing times i.e. fire-rated glazing will be 4 to 6 weeks. Double glazed doors will be 4 or 5 weeks.
What happens if there is pipework or data trunking in the way?
We have a number of workaround methods to cope with obstructions that lie in the path of the proposed glass partitioning. These including 'notching' the glass, 'shaping' the glass and trackwork, and the use of packing pieces. Please contact us to discuss this further, as we can often provide images to illustrate the proposed solution.
Do you work for public sector organisations?
Yes. We do lots of work for Schools, Colleges, Universities, Local Councils and the NHS. These organisations can place their order using a fully authorised purchase order. The full balance is then due immediately on completion of the work.
Can I pay on account?
We do not offer credit accounts. Public sector organisations can choose to place their order using a fully authorised purchase order. The full balance is then due immediately on completion of the work.
What are the Payment Terms?
We take payment in two stages. A £100+VAT deposit at the time of ordering, followed by payment of the remaining balance before the glass is installed. The remaining balance payment is only taken once all on-site surveying is complete and the area is professionally measured for the glass to be manufactured.
We have a suspended ceiling and a fitted carpet. Can you fit to these?
Yes. The majority of our installations are fitted to the underside of a standard grid pattern suspended ceiling and on top of the existing floor covering. We have years of experience in this area so please contact us to discuss any concerns that you may have.
Can I have a glass partition on the edge of a mezzanine?
Yes. However, quoting for this is a little more complex. Please get in touch and one of our glass partitioning experts will provide a bespoke quotation via email.
Can you provide a formal quote?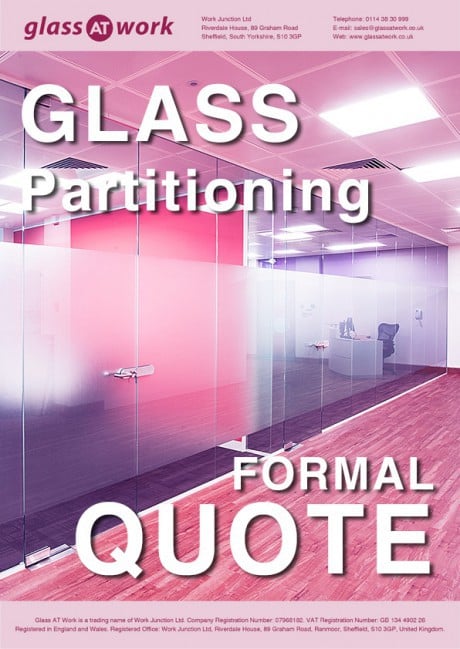 Yes. Just call, email or live chat. Our quoting tool is the best in the business but cannot cover every layout or specialist requirement. We're friendly and love to chat, so please call and we'll talk you through the process, offer expert advice and send you a bespoke PDF quote via email (often within the hour).
Do you quote for main contractors?
Our services are very much aimed at end users, business owner/managers and small to medium sized building firms and contractors. As such we're able to offer fantastic value for money and give an outstanding service. Main contractors will often require retention agreements, extended credit terms and penalty clauses. Our prices do not account for these additional risks and requirements. We always give our very best prices and treat everyone equally.
Do you offer discounts?
In most cases our discounts are already built in to our automated pricing structure e.g. the larger the project, the better your price becomes. Our unique way of operating makes us the cheapest in the UK. We price match like-for-like products, quality & service.
What colour is the Perimeter Track?
You can have any RAL colour, however, our most popular and therefore quickest lead time is RAL 9006 (Silver) or RAL 9010 (White).
Do you do Solid Walls?
Typically, this work would be carried out by a local builder prior to our site survey. In most cases we don't install nibs or solid partitions.
Do you do Supply Only?
The quick answer is No. We want to take control of the work, on your behalf, to make sure you get what you need and bear the risk of error ourselves.
Which floor of the building is it going into and is there suitable access?
Glass can be a difficult and heavy product to manoeuvre into position. If your installation is above 1st floor level or there is difficult access e.g. a spiral staircase or narrow walkway etc then please let us know.
Does my opening have to be level and square?
Most modern office buildings are. If yours is not please get in touch. We can apply rakes to the glass partition if required (although there may be a small additional charge), or advise on alternative solutions.
Do you offer freestanding partitions?
It is possible, in certain instances, to provide freestanding glass walls, fixed at walls but to provide sufficient stability for the wall we need to fix to floor and ceiling (walls can be open at both ends if required).
Is there a choice of ironmongery?
Doors are typically quoted with a pair of 300mm deep, satin stainless steel D Handles. In most cases, the following additional options are available:
- 600mm D Handle
- 720mm Manet D Handle
- 1240mm Manet D Handle
- 1760mm Manet D Handle
- Lever Lock
- Lever Latch
- Manual Coded Digital Lock
- Centre Deadlock
- Corner Patchlock